MCO Trading International (PVT.) Ltd. is one of the oldest and leading Manpower Recruitment Agency in Bangladesh, offering Professional and Specialist recruitment Consultancy services the Middle East and East Asia. MCO Trading International (PVT.) Ltd. is recognized as highly successful to its clients for providing reliable, qualified and cost effective solutions in terms of HRD & Personnel needs. MCO Trading International (PVT.) Ltd. established in 1988 and managed by professionals having extensive experience in labor, Electrician, Welder, Cable jointer, Motor Coil Rewinder, Water Pump Operator, Mason, Brick Layer, Plasterer, Tiles Fitter, Steel Fixer, Rod Binder, Plumber, Pipe Fitter, Furniture Carpenter, Shuttering Carpenters, Painters, Aluminum Fabricators, Gypsum Board / Ceiling Workers.
At a Glance of MCO Trading International (PVT.) Ltd

Name of the Company: Name & style of M/S MCO Trading International (PVT.) ltd was introduced with an emotional theme bring into harmony with the nature of business, the meaning of which is 'Travel in the sky".

Objectives: Manpower Recruitment, Visa Processing, Build Up skilled manpower ,

Years of Establishment: 1988. M/S MCO Trading International (PVT.) ltd. started its journey in a very critical situation when the country was trying its hard to overcome the extreme poverty situation with a view to organize and ideal house human resources development.
Name of Chairman: Quazi Sakhawat Hossain Lintoo

Bangladesh Basic Facts

Official Name: The People's Republic of Bangladesh.

Geographical Location: Latitude between 20o34' and 26o38' North. Longitude between 88o01' and 92o41' East.

Area: 147,570 Sq.Km.

Boundaries: North-India (West Bengal and Meghalaya), West-India (West Bengal) East-India (Tripura and Assam) and Myanmar, South-Bay of Bengal.

Capital City: Dhaka

Population : Total estimated population 118 million. Density of population per sq. mile is 7,656.

Religion : Muslim 85%, Hindu 14%, Buddhist 1%.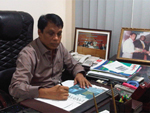 Message from Chairman

I have the pleasure to introduce our company profile which will serve you with the information relevant to fulfill your need for recruitment of work force from Bangladesh.

As to ourselves, I would like to inform that we are of the most organized team of professional manpower recruiting agencies in Bangladesh and have earned wide commendation from him and abroad for our outstanding performance in providing efficient workforce to different region of the world.